Posts for: September, 2014
By Edmonds and Sherman Dental
September 24, 2014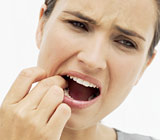 We now have amazing therapies to replace lost teeth with life-like replicas that look and perform like real teeth. But for oral health in general it's still better to save a natural tooth if we can.
That's the main purpose of a root canal treatment — to rescue a tooth whose pulp (an area of tissue and nerve bundles inside the tooth) has died from trauma or ravaged by a bacterial infection that continues to progress up into the bone via the root canals. By accessing the pulp through a small opening in the top of the tooth we remove the dead and infected pulp tissue, thoroughly disinfect the empty pulp chamber and root canals, and then fill them with a special filling. We then seal the opening (and later install a permanent crown) to prevent future fracture of the tooth and re-infection.
So, how can you know your tooth is in danger? Your first indication may be an intense tooth pain that comes on quickly. This pain is emanating from the nerves in the pulp as the tissue begins to die. Once the nerves have died, they will no longer transmit pain signals: hence the pain will subside rather quickly in about two or three days.
So it is important to understand that the absence of pain doesn't mean the infection has subsided — quite the contrary, it's still present and active, making its way along the root canals of the tooth. At this point you may begin to notice a secondary pain when you bite down on the tooth. This is originating from other nerves located around the periodontal ligament (the main tissue that helps hold teeth in place with the bone) as the tissues become inflamed from the infection. You may also develop an abscess, an area in the gum tissue where infectious pus may collect. Depending on its location, the abscess can be acutely painful or "silent," meaning you may not feel any pain at all. The infection is still there, though, and the tooth is still in danger.
If you encounter any of the pain symptoms just described, you should visit us for an examination as soon as possible. If the cause indicates the need for a root canal treatment time is of the essence — the longer we delay, the greater the risk of ultimate tooth loss.
If you would like more information on root canal treatments, please contact us or schedule an appointment for a consultation. You can also learn more about this topic by reading the Dear Doctor magazine article "Signs and Symptoms of a Future Root Canal."
By Edmonds and Sherman Dental
September 09, 2014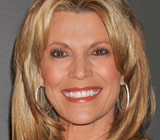 As the co-host of one of America's most beloved television game shows, Wheel of Fortune, Vanna White is recognized for her beautiful gowns and her dazzling smile. However, during an exclusive interview with Dear Doctor magazine, she shared her experiences with cosmetic dentistry. "I had a bridge put in probably 30 years ago where I had a tooth pulled and there was a space," Vanna said.
Prior to having a permanent tooth pulled, most people are concerned with what can be done to replace it. It's important to follow through and do exactly that. This is especially true with back teeth. Just because you can't see them, it doesn't mean you won't face problems if they are not replaced.
For example, did you know that missing posterior (back) teeth can lead to a wide array or problems with the remaining teeth, muscles, ligaments, joints and jaw bones? This includes:
A decrease in chewing efficiency that in turn can impact your diet, nutrition and overall health
Excessive erosion or wear of remaining teeth
Tipping, migration, rotation and even loss of adjacent remaining teeth
Painful jaw problems such as Temporomandibular Dysfunction (TMD)
One treatment option is to follow in Vanna's footsteps and consider a fixed bridge. This is an excellent option when dental implants won't work. And through our artistry, we can easily blend them in color and appearance with your surrounding teeth.
When implants are possible, they represent the best option. They are easily maintained and are a durable, long-lasting solution that can increase bite support.
To learn more about this topic, continue reading the Dear Doctor magazine article "Replacing Back Teeth." Or if you are already missing a permanent tooth, you can contact us today to schedule an appointment so that we can conduct a thorough examination. We will also address any questions you have as well as your treatment options. And if you want to read the entire feature article on Vanna White, continue reading "Vanna White."