Posts for: April, 2015
By Edmonds and Sherman Dental
April 24, 2015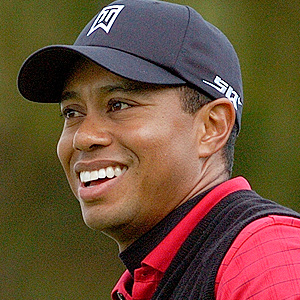 Let's say you're traveling to Italy to surprise your girlfriend, who is competing in an alpine ski race… and when you lower the scarf that's covering your face, you reveal to the assembled paparazzi that one of your front teeth is missing. What will you do about this dental dilemma?
Sound far-fetched? It recently happened to one of the most recognized figures in sports — Tiger Woods. There's still some uncertainty about exactly how this tooth was taken out: Was it a collision with a cameraman, as Woods' agent reported… or did Woods already have some problems with the tooth, as others have speculated? We still don't know for sure, but the big question is: What happens next?
Fortunately, contemporary dentistry offers several good solutions for the problem of missing teeth. Which one is best? It depends on each individual's particular situation.
Let's say that the visible part of the tooth (the crown) has been damaged by a dental trauma (such as a collision or a blow to the face), but the tooth still has healthy roots. In this case, it's often possible to keep the roots and replace the tooth above the gum line with a crown restoration (also called a cap). Crowns are generally made to order in a dental lab, and are placed on a prepared tooth in a procedure that requires two office visits: one to prepare the tooth for restoration and to make a model of the mouth and the second to place the custom-manufactured crown and complete the restoration. However, in some cases, crowns can be made on special machinery right in the dental office, and placed during the same visit.
But what happens if the root isn't viable — for example, if the tooth is deeply fractured, or completely knocked out and unable to be successfully re-implanted?
In that case, a dental implant is probably the best option for tooth replacement. An implant consists of a screw-like post of titanium metal that is inserted into the jawbone during a minor surgical procedure. Titanium has a unique property: It can fuse with living bone tissue, allowing it to act as a secure anchor for the replacement tooth system. The crown of the implant is similar to the one mentioned above, except that it's made to attach to the titanium implant instead of the natural tooth.
Dental implants look, function and "feel" just like natural teeth — and with proper care, they can last a lifetime. Although they may be initially expensive, their quality and longevity makes them a good value over the long term. A less-costly alternative is traditional bridgework — but this method requires some dental work on the adjacent, healthy teeth; plus, it isn't expected to last as long as an implant, and it may make the teeth more prone to problems down the road.
What will the acclaimed golfer do? No doubt Tiger's dentist will help him make the right tooth-replacement decision.
If you have a gap in your grin — whatever the cause — contact us or schedule an appointment for a consultation, and find out which tooth-replacement system is right for you. You can learn more in the Dear Doctor magazine articles "Dental Implant Surgery" and "Crowns & Bridgework."
By Edmonds and Sherman Dental
April 09, 2015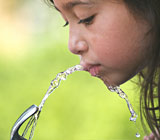 We know from research extending back to the 1930s that very small amounts of fluoride in drinking water can significantly reduce dental caries (cavities) with no negative health effects. Fluoridated water is currently available to 70% of all Americans. However, we have also learned that excess fluoride from combined sources can result in staining of teeth called "fluorosis."
What is the optimum fluoride concentration for healthy teeth?
A fluoride concentration of about 0.7-1.20 milligrams per liter (mg/L), or .7 to 1.2 ppm (parts per million), in the water supply seems to be optimum for dental health without causing negative effects. This concentration is about the same as a grain of salt in a gallon of water. An amount of 1 ppm was originally considered the safe standard, but since today Americans have access to more sources of fluoride than they did when water fluoridation was first introduced, the recommended amount has been reduced to .7 mg/L or .7 ppm.
The crucial amount to measure is the quantity of fluoride that is swallowed. Generally, the optimal level of fluoride per day from all sources is thought to be about .06 milligrams per kilogram of body weight, or about a sixth of the weight of a grain of salt for every two pounds of body weight.
It is probably not possible to calculate the precise amount of fluoride each person ingests per day, because the amount depends on more than just the amount of tapwater you drink. Bottled waters, soft drinks and juices also contain fluoride. Breast milk and cow's milk are very low in fluoride, but infant formulas may contain higher levels. Foods found to have high fluoride content include teas, dry infant cereals and processed chicken, fish and seafood products. Toothpaste can contribute to a child's total fluoride intake if the child swallows it.
What are the effects of too much fluoride?
Dental fluorosis produces a "mottling" of the outer coating of the tooth, the enamel. Mottling may show as staining ranging from small white striations to stained pitting and severe browning of the enamel surface.
The first six to eight years of life is the most risky time for development of dental fluorosis. Parents need to monitor their children to make sure they use small amounts of fluoride toothpaste (an amount the size of a pea on the brush is recommended). Watch for white spots on the enamel (hard outside coating) of your child's teeth. White spots from fluorosis mean it is time to pay attention to how much fluoride your child is getting from various sources, and to cut back on the total. You want fluoride's protection against cavities for your child's teeth, without the unsightliness of dental fluorosis from too much fluoride.
Contact us today to schedule an appointment to discuss your questions about fluoride. You can also learn more by reading the Dear Doctor magazine articles "Fluoride & Fluoridation in Dentistry" and "New Fluoride Recommendations."