Posts for: August, 2015
By Edmonds and Sherman Dental
August 17, 2015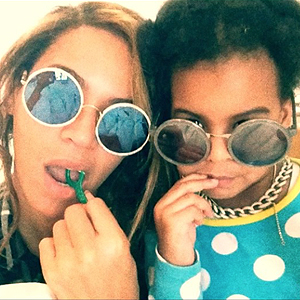 As is the case with most celebs today, Beyonce is no stranger to sharing on social media… but she really got our attention with a video she recently posted on instagram. The clip shows the superstar songstress — along with her adorable three-year old daughter Blue Ivy — flossing their teeth! In the background, a vocalist (sounding remarkably like her husband Jay-Z) repeats the phrase "flossin'…flossin'…" as mom and daughter appear to take care of their dental hygiene in time with the beat: https://instagram.com/p/073CF1vw07/?taken-by=beyonce
We're happy that this clip highlights the importance of helping kids get an early start on good oral hygiene. And, according to authorities like the American Dental Association and the American Academy of Pediatric Dentistry, age 3 is about the right time for kids to begin getting involved in the care of their own teeth.
Of course, parents should start paying attention to their kids' oral hygiene long before age three. In fact, as soon as baby's tiny teeth make their first appearance, the teeth and gums can be cleaned with a soft brush or cloth and a smear of fluoride toothpaste, about the size of a grain of rice. Around age 3, kids will develop the ability to spit out toothpaste. That's when you can increase the amount of toothpaste a little, and start explaining to them how you clean all around the teeth on the top and bottom of the mouth. Depending on your child's dexterity, age 3 might be a good time to let them have a try at brushing by themselves.
Ready to help your kids take the first steps to a lifetime of good dental checkups? Place a pea-sized dab of fluoride toothpaste on a soft-bristled brush, and gently guide them as they clean in front, in back, on all surfaces of each tooth. At first, it's a good idea to take turns brushing. That way, you can be sure they're learning the right techniques and keeping their teeth plaque-free, while making the experience challenging and fun.
Most kids will need parental supervision and help with brushing until around age 6. As they develop better hand-eye coordination and the ability to follow through with the cleaning regimen, they can be left on their own more. But even the best may need some "brushing up" on their tooth-cleaning techniques from time to time.
What about flossing? While it's an essential part of good oral hygiene, it does take a little more dexterity to do it properly. Flossing the gaps between teeth should be started when the teeth begin growing close to one another. Depending on how a child's teeth are spaced, perhaps only the back ones will need to be flossed at first. Even after they learn to brush, kids may still need help flossing — but a floss holder (like the one Beyonce is using in the clip) can make the job a lot easier.
If you would like more information about maintaining your children's oral hygiene, please contact us or schedule an appointment for a consultation. You can learn more by reading the Dear Doctor magazine articles "Top 10 Oral Health Tips For Children" and "How to Help Your Child Develop the Best Habits for Oral Health."
By Edmonds and Sherman Dental
August 09, 2015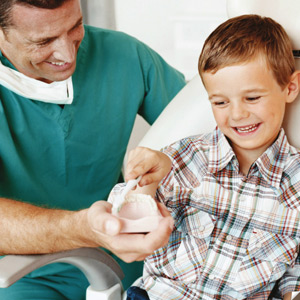 There's really no secret to keeping your child's teeth healthy — good, daily hygiene habits, regular dental visits and early treatment for emerging problems. It's a lot easier for those things to happen if your child feels comfortable with dental care and visiting the dentist. Sadly, that's not always the case: many children develop an unhealthy fear of the dentist because the initial relationship may have been mishandled.
Here, then, are 3 tips that will help you foster a healthy relationship between your child and their dentist.
Visit the dentist before their first birthday. From a health standpoint, dental visits should begin soon after your child's first teeth emerge (erupt) in the mouth. Visiting the dentist by their first birthday also improves the chances they'll develop a sufficient level of comfort with the visits, more so than if you waited a year or two longer.
Choose your dentist with your child's sense of security and comfort in mind. When you're looking for a dentist to care for your child, think of it as looking for a "new member of the family." It's important to find an office environment that's kid-friendly and staff members that work well with children. Some dentists specialize in pediatric dentistry and many general dentists have additional training in working with children. The key is a dental team that has a good, trust-building rapport with children.
Set an example, both in the home and at the dentist. Children learn quite a bit watching what their caregivers say and how they react in potentially stressful situations. If dental care is important to you personally, it's more likely to become important to your child. And when you visit the dentist with your child, be sure to project calm and a sense that it's routine — if you display tenseness or nervousness your child may take that as a sign that visiting the dentist is something to fear.
You want your child to learn that the dentist is their friend who's there to help them. That lesson should begin early with the right dental team — and by making dental care a priority in your own life.
If you would like more information on dental care for your child, please contact us or schedule an appointment for a consultation. You can also learn more about this topic by reading the Dear Doctor magazine article "Taking the Stress out of Dentistry for Kids."