Dentist in Des Plaines, IL
All our professionals at Edmonds and Sherman Dental maintain the highest levels of accreditation and pursue ongoing education to stay abreast of the latest trends in dentistry.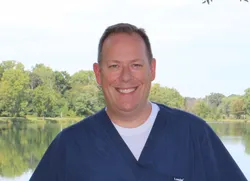 James P. Edmonds, DDS
Dr. James P. Edmonds grew up in Downers Grove, IL. After earning his Bachelor of Science degree from the University of Illinois at Urbana-Champaign in 1993, Dr. Edmonds accepted a position at Baylor College of Medicine in Houston, TX. Dr. Edmonds returned to Chicago to begin dental school and earned his Doctor of Dental Surgery degree from the University of Illinois at Chicago in 2001. He practiced in a large group practice in The Loop and a family practice in St. Charles, IL before joining Edmonds and Sherman Dental in 2006.
Dr. Edmonds has dedicated his practice to Des Plaines, and his calming demeanor and uncompromising precision help his patients feel confident about their treatment and comfortable in his presence. He is an active member of the American Dental Association, Illinois State Dental Society, Chicago Dental Society, and is North Eastern Regional Board certified. He maintains all necessary levels of certification and continuing education to ensure the best possible treatment to his patients.
On the weekend, Dr. Edmonds enjoys spending time with his wife, Dr. Lauren Sherman, and their two children. Whether they are at a museum in the city, karate practice, or on a camping trip, family is important to Dr. Edmonds, and he will treat you and your family with the utmost care and compassion.
Lauren Sherman, DDS
When Dr. Lauren Sherman was a young girl thinking about her future career, she didn't have very far to look for inspiration. Since growing up in Arlington Heights, IL dentistry has been a part of her life. She attended the University of Illinois Champaign-Urbana and received her Bachelor of Science in Biology in 1996. Upon graduation she followed in the footsteps of her father and grandfather and made the decision to pursue dentistry. In 2001 she received her Bachelor of Science in Dentistry and Doctor of Dental Surgery degrees from the University of Illinois College of Dentistry in Chicago. She met her husband Dr. James Edmonds in dental school and they were married soon after in 2001.
Dr. Sherman is North Eastern Regional Board Certified. She is a member of many professional associations including the American Dental Association, Illinois State Dental Association, Chicago Dental Association and she frequently attends advanced dentistry classes to improve the many clinical services she provides and to offer the highest level of care.
In her spare time Dr. Sherman finds joy in baking, gardening and photography. Her daughter and son are her favorite subjects. She loves to travel with family and her preferred destination is Disney World.
Dr. Sherman focuses on getting to know her patients and understanding their dental concerns. All treatment is customized for each patient and discussed in great detail to ensure comfort.